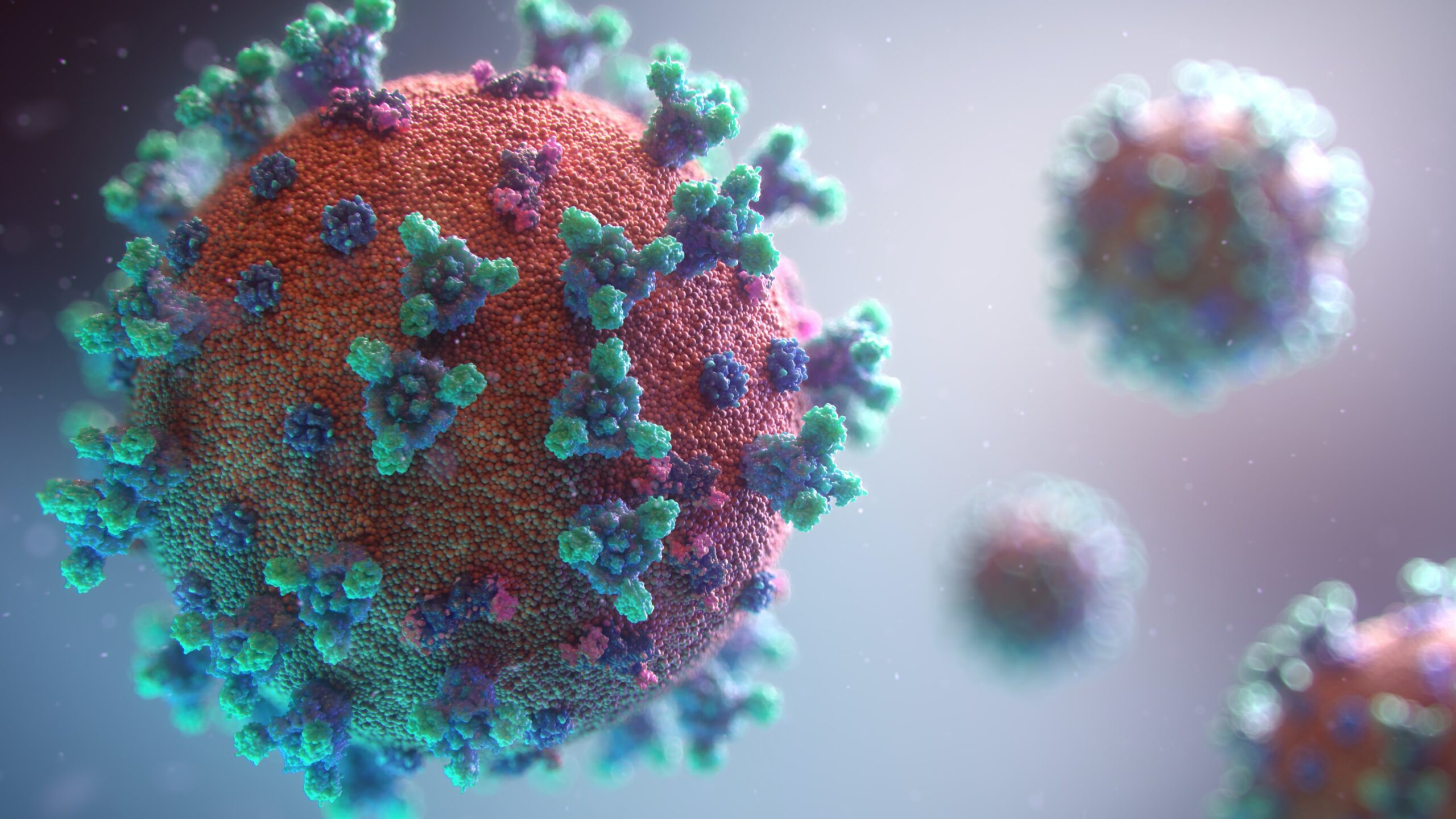 Planning for the End of the Public Health Emergency | 2023 Montana Medicaid and Health Montana Kids Enrollment Redetermination
OVERVIEW
Back in March 2020, the federal government declared a national public health emergency (PHE). The PHE extension is set to expire on May 11, 2023.  With the end of PHE, many changes will come as a result. Here are a few of the key changes:
Certain Medicare and Medicaid waivers and broad flexibilities for healthcare providers are no longer necessary or will end
Coverage for COVID-19 testing
CDC reporting of COVID-19 laboratory results and immunization data
For more information, visit HHS.gov.
Montana Medicaid and Healthy Montana Kids (HMK).  While there were numerous aspects under the PHE declaration, one specifically required suspension of disenrollment for programs like Montana Medicaid and HMK through Montana's Office of Public Assistance within the Montana Department of Public Health and Human Services (DPHHS). This meant individuals covered under Montana Medicaid and HMK had continuous enrollment and did not have to worry about providing updated information to DPHHS to keep their health coverage during the period of the PHE. 
Montana Medicaid and HMK Continuous Enrollment Protection. In December 2022, Congress enacted the Consolidated Appropriations Act of 2023 (Act), which included provisions addressing Medicaid and Children's Health Insurance Program (CHIP) – which includes HMK – that take effect April 1, 2023. Specifically, the Act uncoupled program continuous enrollment from the PHE and requires states to begin the process of returning to normal eligibility and operations over a defined time period, commonly referred to as the "unwinding" process.
---
IF YOU ARE COVERED UNDER MONTANA MEDICAID OR HMK IN 2023, WHAT SHOULD YOU DO NOW?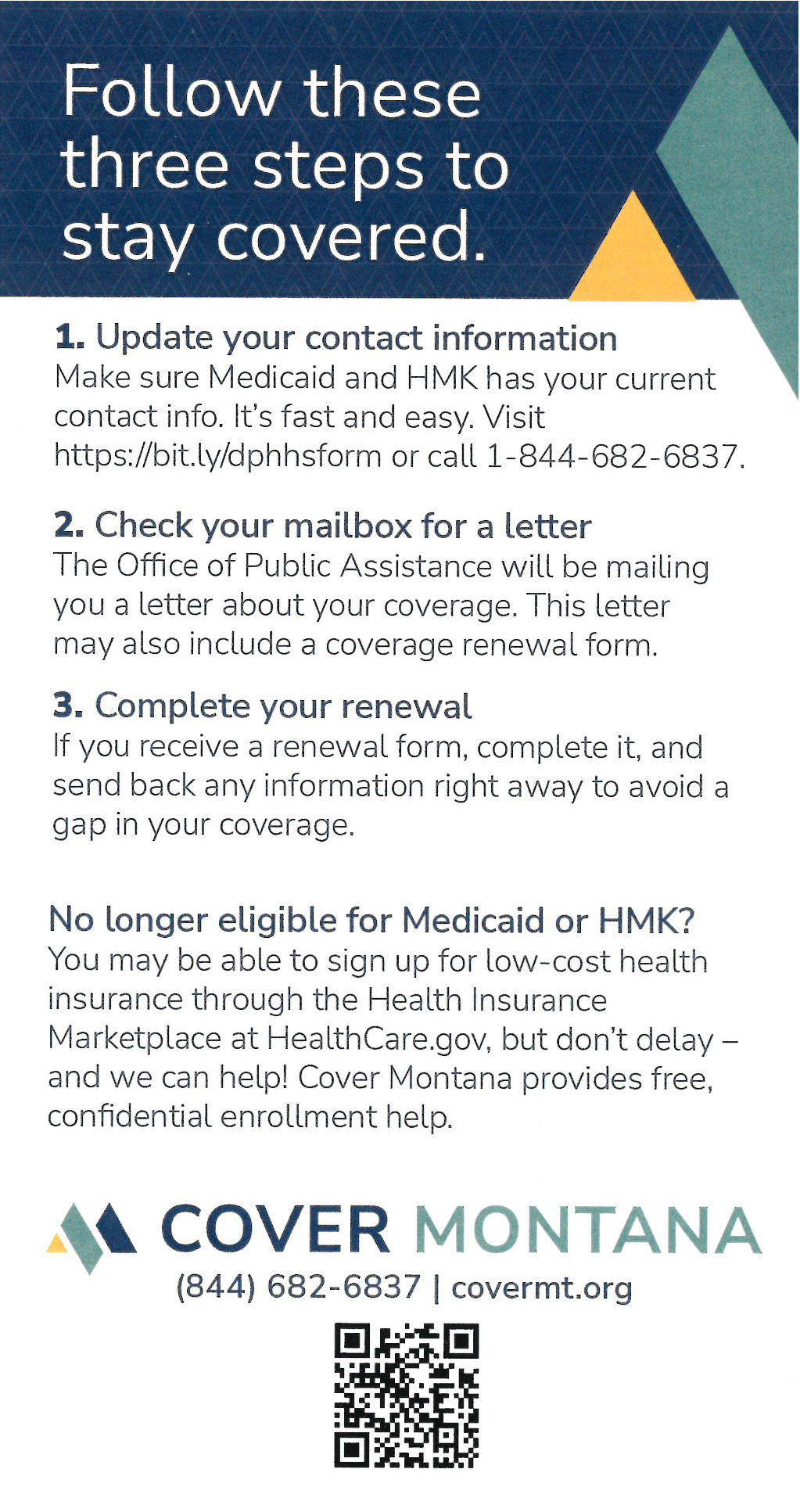 Steps you can take now to help ensure you do not experience any gap in health care coverage:

Ensure your mailing address, phone number, and email address on file with DPHHS are correct.

Regularly check your mailbox and be alert for DPHHS letter(s) about renewal or termination of coverage.

Timely respond to any DPHHS request(s) for more information so the agency can accurately determine eligibility.
---
TO UPDATE CONTACT INFORMATION
For online update submissions:
Visit mt.gov – Montana's application portal. Once you create an account (or log in if you already have one), you can update your contact information, read notices, and see other details about your benefits. This option will require an email address. (OR)
Access the DPHHS Medicaid and HMK Change of Address Form, which is fast, free, and easy to fill out. This option does not require an email address.
To talk to someone, call the Montana Office of Public Assistance Help Line at 888.706.1535 or stop by a local Office of Public Assistance.
For mail or fax, updated information can be mailed to Montana Medicaid, PO Box 202925, Helena, MT, 59620, or sent by fax to 877.418.4533. Include your case number and first and last names. If you do not have a case number, include your date of birth.
---
There are other sources of information and help that you can easily access:
COVER MONTANA
Cover Montana (facilitated through the Montana Primary Care Association) has partnered with DPHHS (and the federal government) to help explain the changes coming to Montana Medicaid and to help individuals update their contact information.
The Cover Montana project works to connect Montanans who have questions about enrolling in health insurance options with a local enrollment assistant who can walk them through the process. This is largely done through the Cover Montana website; see Cover Montana—Connecting you to health insurance coverage.
Worried about losing coverage because you think you will no longer qualify for Medicaid or for other reasons? Cover Montana can also help explain and enroll you in other affordable, insurance options.
Call the Cover Montana Help Line at 844.682.6837 or find someone local who can help you through the process.  The help is free and confidential.
  ADDITIONAL MONTANA MEDICAID RESOURCES
---
OUR OFFICE—CSI Insurance Consumer Services (ICS)

 
Our office—the CSI, is the state regulator of the insurance and securities industries.  For individual coverage, Montana consumers use the federally run exchange (the HealthCare Marketplace) at healthcare.gov.  The Insurance Commissioner regulates plans offered both on and outside the exchange.
Insurance Consumer Services (ICS) has staff dedicated to answering your insurance-related questions about the PHE, resolving issues or complaints against insurance companies, or other general questions. To contact ICS, call 406.444.2040.
ICS can also help you find resources and information about healthcare coverage options. 
With the unwinding of continuous enrollment in Montana Medicaid or HMK, individuals who no longer qualify for public assistance may have other healthcare coverage options such as coverage through the Health Care Marketplace. For more information about the Marketplace, visit healthcare.gov or call the Marketplace Call Center at 800.318.2596 (TTY: 855.889.4325).
Stay tuned for future updates and any additional resources!
Was this helpful?
Please give us your feedback!
Please let us know how we could improve this article.