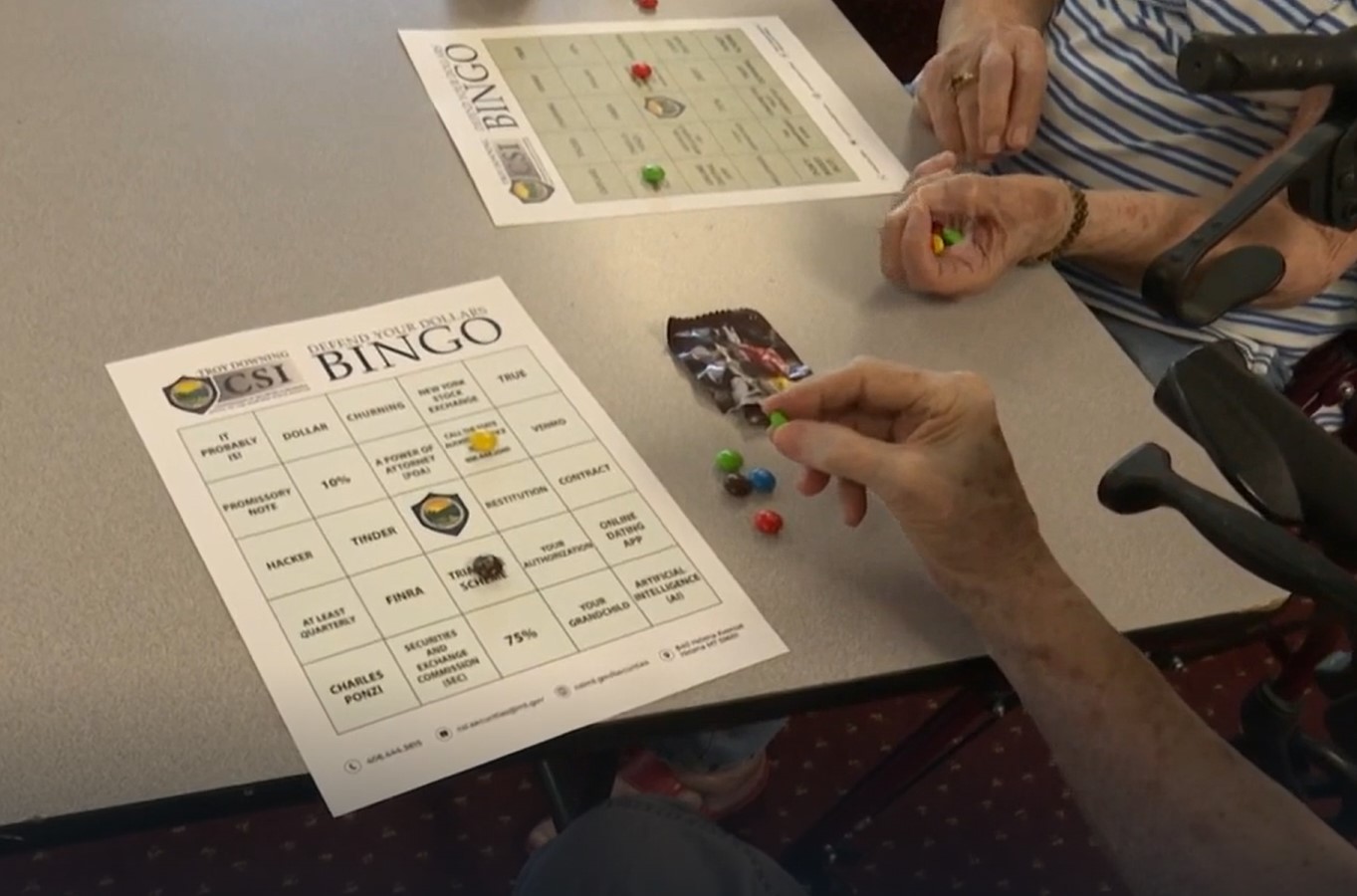 BILLINGS – It's a billion-dollar-a-year industry, except the only ones benefiting are criminals and Montana is no exception as our aging population is the main target.
It's why there's a massive push by the office of the Montana Commissioner of Insurance and Securities to educate Montana's elderly about these dangers.
And sometimes all it takes it is a good ol' fashioned game of Bingo.
"And they love it," said Commissioner Troy Downing.
Downing was at Aspen View retirement community in Billings recently calling out the questions as a group of residents carefully placed M&M candies as markers on their elder fraud Bingo cards.
"They win some prizes, and we get the message out," he said.
But the issue is really more than just fun and games. Downing said that about 75 percent of complaints coming into his office involve Montana's senior population being scammed.
"We have noticed that the majority of these cases are perpetrated against seniors," he said.
According to his office, financial abuse costs seniors $36.5 billion nationwide, but seniors can reduce their risk by following a few details regarding their finances.
The Bingo game is meant to help with that awareness by tasking the players with questions identifying different scams on their board, marking those off and winning prizes.
Downing says seniors should stay engaged in their communities, protect personal information, review their living will, and work with a trusted financial adviser.
"We've got one of the older populations in the country and that's where the wealth is concentrated. They've got retirement accounts, they have savings accounts."
And beyond that, it helps to keep up to date on specific scams.
Much like a game of Bingo, scammers are getting more sophisticated with their moves, Downing says, now using artificial intelligence to bilk seniors with something called the voice cloning grandparent scam.
"They are taking recordings of the grandkids' Tik-Tok or Instagram or YouTube account and based on those little samples of their voice they can use artificial intelligence to sound exactly like that grandkid," he said.
Information regarding that scam seemed to perplex some of the residents taking part in Bingo at Aspen Meadows, including Naeltje McNulty.
"They really do target people here," said McNulty. "They aren't quite as sharp as they used to be, and they trust people."
Downing says his office has a newly developed Financial Abuse Specialist Team providing coordinated response to elder exploitation along with funds for restitution if a person is scammed out of their funds and can't get them back.
But with every box at Bingo players check off stamina against scammers is built, which is the reason Downing says they move around the state informing Montanans about the dangers that lurk with scammers.
"The best outcome you can have is to prevent it in the first place," he said. "Please if you hear about a scam, call our office."
Click HERE for the full article.
Was this helpful?
Please give us your feedback!
Please let us know how we could improve this article.