The state delivered a double whammy on elder abuse Tuesday, with an observance held at a Helena bank outlining the state's actions on dealing with the problem and a group meeting later in the day to expand an elder justice council started two years ago in Eastern Montana.
State officials noted that in 2020 a record 4,500 Montanans were victims of elder abuse, an increase of nearly 30% since 2018. The probes by 32 Adult Protective Services investigators involved adults aged 60 and older and adults with disabilities aged 18-59.
During an event at Bank of the Rockies in Helena, Gov. Greg Gianforte proclaimed June 15 as World Elder Abuse Awareness Day. He said Montana had a growing aging population and noted that in 2019, 19% of Montana's population was 65 or older. By 2030, that is expected to be 25%.
He said cases of neglect and financial exploitation are rising and people can report cases of elder abuse at 1-844-277-9300.
"Any one of us can find ourselves, or our loved ones, in such a vulnerable situation, through no fault of our own," Gianforte said, adding that help is available.
Officials said the average victim nationally loses $120,000 through financial exploitation.
Gianforte urged people to report suspected abuse, neglect or exploitation to Adult Protective Services or law enforcement.
"Ending elder abuse for good will take collective action from all of us," he said, adding all generations are vulnerable when it comes to being cheated, but seniors are more so.
Attorney General Austin Knudsen said Montana has the sixth oldest population in the country and the oldest in the West.
"I think we can all agree that those who prey on the elderly are the worst kind of criminals," he said
Knudsen said his department investigates cases of elder abuse, which include allegations of terrible living conditions and medications being withheld.
Knudsen said senior citizens in Montana have lost up to seven figures from crooks.
"We need to stop scammers before it starts," he said, noting that money is a scammer's "life blood."
He said the best advice he could can give to Montanans is to never give money or ID information to anyone over the phone.
Mike Grove, president of Bank of the Rockies, said the bank industry has a specific role to play in the prevention of elder abuse.
And he called their efforts to fight elder abuse "a mission."
He said they had a highly motivated group of employees who have taken the mission to the next level.
Jennell Huff, relationship executive/community outreach coordinator for Bank of the Rockies, said that during the COVID-19 pandemic, employees made "care calls" not only to seniors, but to all customers. They make offers to pick up groceries and other tasks, even if they just want to talk.
The event was hosted by Adam Meier, director of the Department of Public Health and Human Services.
Also speaking were Michael Hagenlock, DPHHS chief of Adult Protective Services, and Katy Lovell, Montana legal services developer.
Lovell said she provides legal advice to people older than 60 and deals with cases of abuse and neglect daily. She said for every case reported, 24 are not. She said her programs and services are free to the public.
Hagenlock said APS has 32 investigators to cover all 56 counties in Montana. He said elder abuse is unidentified and usually occurs behind closed doors. And often a family member is the perpetrator.
"All older adults and adults with disability deserve to be treated with respect, dignity and integrity, regardless of where they live in Montana," he said.
A few hours later, Troy Downing, the commissioner of securities and insurance, held a meeting where officials discussed expanding to the rest of the state a program that now just serves eastern Montana.
"It's a horrible problem when you see what is happening to these victims," Downing said. "There is nothing that will make your heart sink than a 75- or 80-year-old person come sobbing because they have just been taking advantage of and don't know how they will pay their bills."
The Senior Financial Exploitation Task Force discussed creating three new Elder Justice Councils.
In early 2019, then-state Auditor Matt Rosendale convened elected officials, state and federal law enforcement, and representatives of several organizations to create a multi-jurisdictional task force to combat financial exploitation.
The group was known as the Eastern Montana Elder Justice Council. Its mission is to coordinate community efforts in eastern Montana to address and reduce abuse, neglect and abuse of senior citizens and adults with disabilities.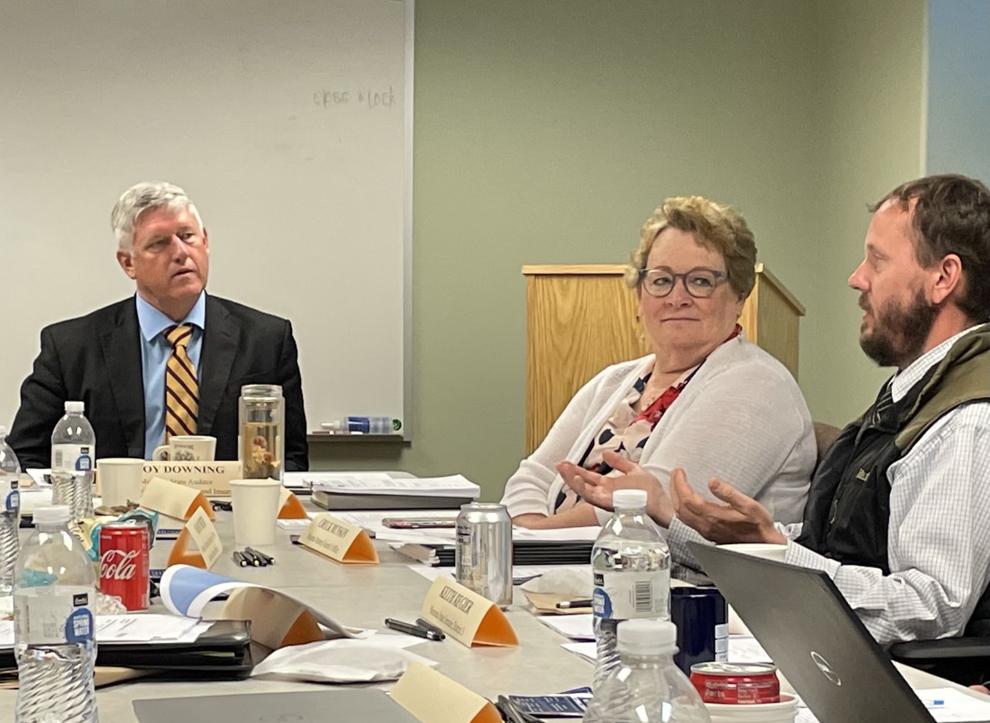 Then-Gov. Steve Bullock in 2019 classified the group as a criminal justice agency, the state auditor's office said. The council published a 47-page report in late 2020 highlighting the work accomplished to combat exploitation and abuse in eastern Montana.
Downing and the nearly one dozen people at the meeting discussed expanding the program throughout the state.
The group came up with four districts and decided to identify resources in each location and to seek an executive order from the governor to set up the three new districts.
Those attending that meeting included representatives from the governor's office, the attorney general's office, the state Senate, the U.S. attorney's office, Department of Public Health and Human Services, the Montana Division of Banking and Financial Institutions and the Montana County Attorney Association.