THE LYNNE EGAN MEMORIAL SECURITIES
RESTITUTION ASSISTANCE FUND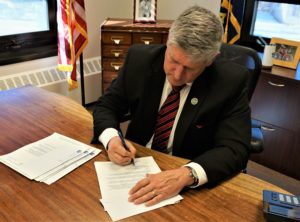 In 2011, the Commissioner's office worked with Montana's legislature to create a Securities Restitution Assistance Fund. Upon the passing of long-time Deputy Securities Commissioner, Lynne Egan, Governor Greg Gianforte proclaimed that the Fund should be referred to as the "Lynne Egan Memorial Securities Restitution Assistance Fund." Montana's Fund helps victims of investment fraud recover a portion of what they lost when full restitution is not possible.
When the CSI Securities Division prosecutes a case of investment fraud, the first priority is full restitution for victims. However, in some cases, the stolen money may be gone for good. The Lynne Egan Memorial Securities Restitution Assistance Fund was made to help victims in these cases.
The money for the Fund comes from the fees paid by registered firms doing business with Montana investors and from settlements the CSI Securities Division has entered. 
Montana law limits the amount of assistance each victim may receive from the Fund. Claims were originally limited to the lesser of $25,000 or 25% of unpaid restitution.  However, in 2015, HB57 doubled the maximum award victims could get from the Fund to $50,000 or 50 percent of their losses, whichever is less, if the victim is a senior citizen or any other Montanan defined in state law as a "vulnerable person." Additional limits apply if the fund's balance is depleted below $1,000,000.
Securities Restitution payments can only go to victims of cases prosecuted or administrated by the CSI Securities Division, or in which the CSI Securities Division initiated the investigation and referred the matter (typically to the US Attorney's office).  Additionally, a person must have been a Montana resident at the time of victimization.
How to Apply for Restitution Assistance
Read the application carefully and complete all four pages of the application. If you have questions or problems, please call the CSI Securities Division at 800.332.6148 or 406.444.2040.
If available, attach a copy of the Final Order upon which your application is based.
Attach copies of every restitution payment you received from whatever source. If non-cash restitution was received, provide a complete description and value of the restitution.
Provide documentation that you were a Montana resident or were domiciled in Montana at the time of the securities transaction upon which your restitution order was based.
Submit the application by certified mail to:
The Lynne Egan Memorial Securities Restitution Assistance Fund
840 Helena Ave
Helena, MT 59601